Zucchini.  As pasta! I know! If I didn't see it myself, I wouldn't have believed it!  The other day I was inspired to do something different for dinner.  I'm always looking for good recipes, that are low carb due to my daughter being a
type 1 diabetic
. I googled zucchini pasta randomly and was set on making it.  I dragged the baby to Walmart and looked for a
Vegetti 
 .  That's the hand propelled kitchen gadget that turns everything into a noodle.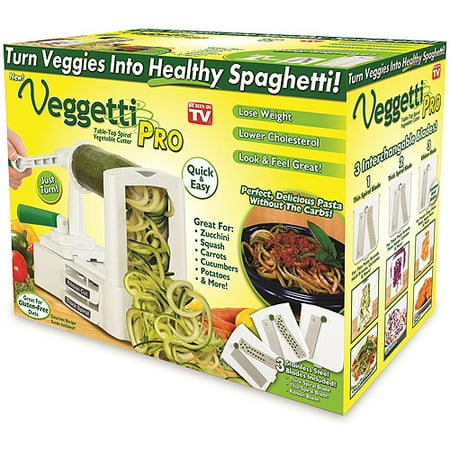 I already had zucchini in the fridge.  I just wasn't sure what I was going to do with it.  I decided to do an Alfredo dish.  My kids loved anything covered in creamy Alfredo sauce, so I thought this may help with the transition from regular pasta.  I cooked my Alfredo sauce as normal, adding garlic seasoned shrimp, and diced, grilled chicken.  I sauteed the zucchini noodles in a bit of olive oil for only a second.  Just to get it a little soft for the real pasta effect.
When I placed everyone's dish in front of them, they looked at me like "Oh No!  Not something new!"  I just told them to eat it and hush. LOL!  My 6 year old insisted she didn't like the "noodles".  But she doesn't like anything new.  She ate it all, but didn't ask for seconds.  My 12 year old initially said she didn't like it but ended up getting seconds.  I never have issues with my oldest, and she gobbled it all up and had seconds.  I thought it was pretty good!  I actually loved it!
After loving my new "pasta" I saw I had one more zucchini and I wanted to do something else with it.  I decided on a cold dish.  I made an Italian noodle dish using Italian dressing, tomatoes, Parmesan cheese, olives, and shredded carrots.  My oldest liked it so much she packed it up in 2 mason jars, topped with a little bit of grilled chicken and packed it for lunch.
We made brownies that night, and I wanted to crush up some zucchini and put it in those too ( I heard you can do it and not taste it).  I didn't though.  I didn't want my kids to kill me if their brownies were ruined.
So countrymen, LEND ME YOUR EARS!  Buy a
veggeti
!  I am already fixing my shopping list to make a whole bunch of other stuff with other fruits and veggies. I may never make spaghetti noodles again.  Can't beat 8 carbs for a bowl of zucchini noodles!!
Do you have a favorite zucchini recipe?